The Crown Prince's Palace
Unter den Linden 3
10117 Berlin (Mitte)
The Kronprinzenpalais (Crown Prince Palace) close to the Spree on the fine boulevard Unter den Linden has seen the most varied history. In its present form it is a reconstruction of 1968-69 after it had burned down in the war and been cleared away later.
Unter den Linden at about 1780
with the Crown Prince's Palace (left)
and armoury (right)

1793 Residency of King Friedrich Wilhelm III.and Queen Luise of Mecklenburg-Strelitz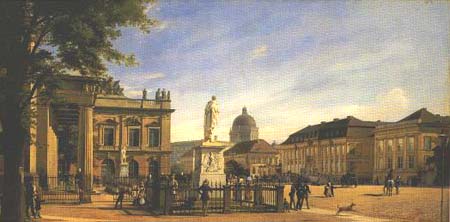 1848 View at the Crown Prince's Palace (right) and the Royal Castle as seen from the "Neuen Wache" (Oil from Johann Philipp Eduard Gaertner)
The former Crown Prince's Palace on Berlin's main boulevard Unter den Linden, opposite the cathedral and next to the opera where Bergs "Wozzeck" was premiered in 1925 is a splendid location. Just a few steps further there is the former Opernplatz, where in 1933 Werfel's books were burnt, and just a few blocks away is Max Reinhardt's"Deutsches Theater" where Werfel's plays such as "Juarez and Maximilian" were performed.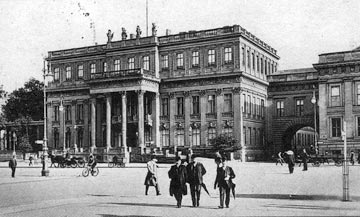 The Crown Prince's Palace at the end of the 19th century.
Between the wars the Crown Prince's Palace served as an appendix to the National Gallery, and housed the worldwide first permanent museum of contemporary art, influencing even the foundation of the MoMA in New York. Needless to say that Kokoschka was presented there, too.
Room with works from Macke and Marc with
view at Erich Heckels "Ostender Madonna"

"Die Knieende" from
Wilhelm Lehmbruck
Originally built in baroque style by Philipp Gerlach in 1663, the Crown Prince's Palace was extended in the mid-19th century by King Fredrich Wilhelm I as a residence for his son, Crown Prince Wilhelm II, who was born here in 1859.
Destructions during World War II
After falling victim to wartime bombs, the Palace you now see is an exact copy of the original, reconstructed in 1968/69. In the East German era, the building was used to receive visiting foreign dignitaries such as Indira Gandhi. The Palace has also played a pivotal role in recent history: The German reunification agreement was signed here on 31st August 1990!